Thank you for taking part in the DEBRIS JAPAN - PAINTING CONTEST!! After careful consideration, a first-prize winner has been decided!! The winner is...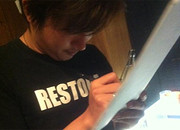 [JUNNOSUKE'S COMMENT]
The reason why I chose this work is the overall balance that is taking advantage of the qualities of SOFUBI, and high level of accomplishment : self-produced robot arm, mechanical mask and so on. And most of all, I felt an affection & idea for figure itself.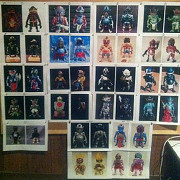 [JUDGING COMMITTEE'S COMMENTS]
- Well, whatsoever, THIS IS AMERICA!! I got a powerful impact from the character that is like it popped out from cartoon.
- I was so impressed by the elaborate decor. The combination mustle and mechanic, this is awesome!
- High quality & outstanding originality.
- I like it's half-robot & half-creature aspect. It's just like "The Terminator". I want to be in the "Death Trap".
Congratulations!! And we'd also like to announce the 2nd & 3rd works, which regrettably didn't manage to receive award, that has strengths that make us feel it is deserving of attention.
[JUDGING COMMITTEE'S COMMENTS]
- The imagination that makes SOFUBI light up is very unique!
- I felt a extraordinary sense of enthusiasm in the gimmicks.
- This is a work that can see how foreign countries feel about Japan earthquake & tsunami.
  It got to our heart.
- I felt grateful to this work that contains messages of support for JAPAN.
[JUDGING COMMITTEE'S COMMENTS]
- The colors & model of character are very interesting! KANJI is nice, too.
- There were many attractive characteristics that is worth seeing : accessories, colors, KANJI, character's background.